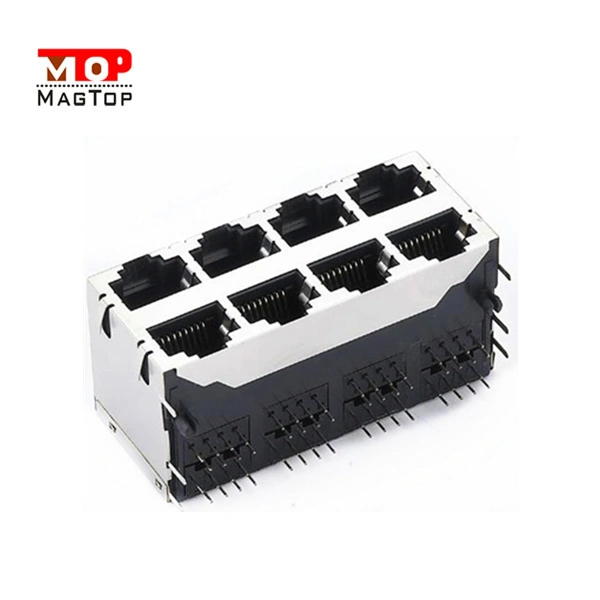 RJ45 is a type of information socket (communication outlet) connector in a wiring system. The connector consists of a plug (connector, crystal head) and a socket (module). The plug has 8 grooves and 8 contacts.
RJ is short for Registered Jack, which means "registered socket".
In the FCC (Federal Communications Commission Standards and Regulations), RJ describes the interface of a public telecommunications network. The RJ45 of a computer network is the common name for the standard 8-bit modular interface.
The waterproof RJ45 connector
involves product design, process technology and quality control technology. The main technologies include the following aspects:
(1) Precision mold processing technology: the use of CAD, CAM and other technologies, the introduction of high precision machining equipment in the industry, the use of personnel production experience and advanced equipment and technology means to achieve high precision excellent mold products.
(2) Precision stamping and precision injection molding technology: to achieve all kinds of stamping parts and injection parts precision, efficient, stable all-round control and perfect surface quality, to ensure product quality.
(3) Automatic assembly technology: through the application of precision control technology, semi-automatic detection machine technology and other applications, to overcome the difficulties of manual operation of precision products, improve the core competitiveness.
The continuous development of automobile industry, computer communication industry and other application fields, so that the connector market capacity gradually expanded, the average annual growth rate is more than double digits, the market development potential is large.
China has become a global connector growing very fast and large capacity market.
MagTop main products are transformers,(High Frequency Tansformer, Low Frequency Tansformer,Toroidal Tranformer)  inductors(SMD Inductors,DIP Inductors,Common Moke Inductors,Toroidal   Inductors)  coils, filters, RJ45 connectors(Rj45 Single Port ,Rj45 Multi Port,RJ45 with USB,RJ45 with PoE), etc.  Welcome to click
 our website
 or contact us.